VMware NSX Upgradation Steps
VMware NSX is a virtual networking and security software product. In this blog we will go through step by step process to upgrade it.
Upgrade Process
Download the VMware NSX Upgrade Bundle (tar.gz file) from the VMware site
Take the VMware NSX Manager Snapshot
Upgrade NSX Manager (No downtime)
Upgrade NSX Controllers (No downtime)
Upgrade Host Clusters (No downtime)
Upgrade NSX Edges (Temporary Service Disconnection during NSX Edge Upgrade)
Steps to upgrade VMware NSX
Log into the VMware NSX Manager to upgrade, Select Upgrade

Browse for the Upgrade Bundle and Click on Continue

Click on upgrade to start the upgradation of NSX Manager – Make sure SSH is enabled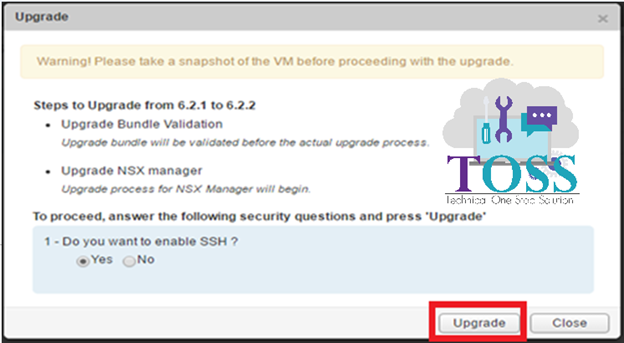 Upgradation progress

To Verify VMware NSX Manager Upgrade

Login to the VMware Web Client – Select Networking and Security – Installation -Management Tab – Under NSX Manager and verify the version

VMware NSX Controller Upgrade Steps
Login to vCenter Server Web client – Network & Security – Installation – Management Tab – Select Upgrade Available under NSX Manager for the VMware NSX Controller Upgrade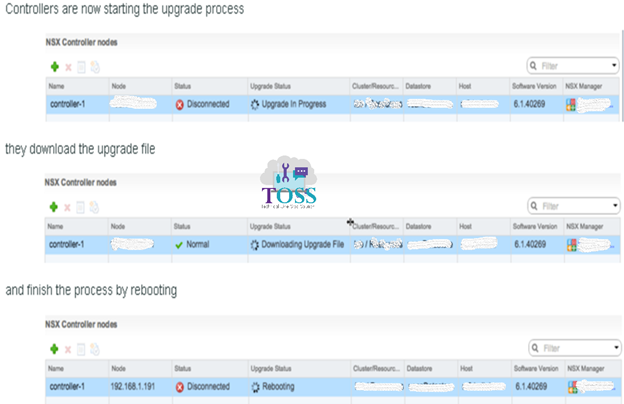 To Verify the VMware NSX Controller upgrade

VMware Host Cluster Upgrade Steps
Please note that ESXi is rebooted one by one by putting Host into Maintenance Mode
Login to vCenter Server Web client – Network & Security – Installation – Host Preparation Tab – Select Upgrade Available for the VMware Host Cluster Upgrade

Installation progress by installing VMware NSX VIB agent in ESXi Hosts

Once the Cluster ESXi Servers are upgraded with the latest NSX VIBs- It shows the green check-mark under Installation Status.
Common Errors during the Upgrade
If hosts require manual intervention to enter maintenance mode (for example, due to HA requirements or DRS rules), the upgrade process stops and the cluster Installation Status displays Not Ready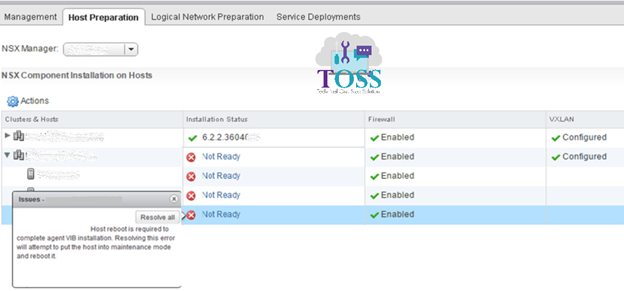 Sometimes the NSX will be unable to install the VIBs successfully on ESXi Servers due to the issues to vMotion VMs to put into Maintenance Mode- Identify and fix the issue to proceed.
If the DRS and HA settings are proper , once we click on Resolve All, it starts putting host into Maintenance Mode one by one and Reboots ESXi to install the VIBs.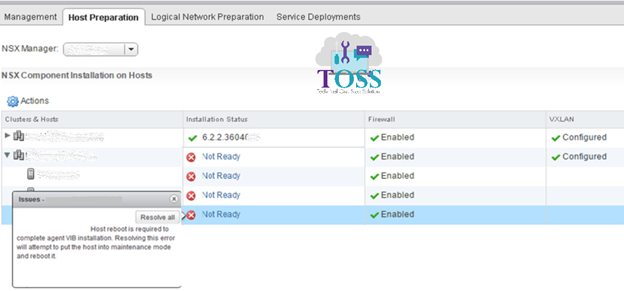 To verify the Installation Status

To verify the VXLAN is Ready and Normal – Go to Networking and Security- Installation – Logical Network Preparation

VMware NSX Edge Upgrade
Go to Networking & Security in Web Client – Select NSX Edges- Right click on the NSX Edge – Select Upgrade Version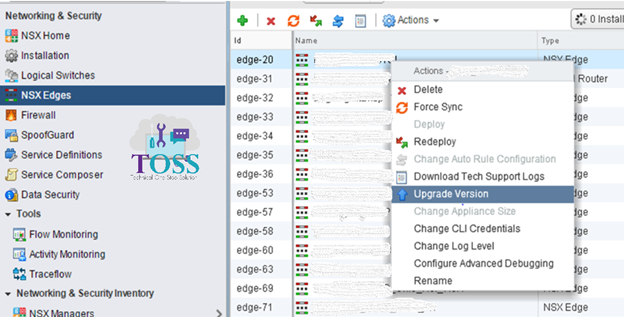 To Verify the NSX Edge Upgrade to the latest version 6.2.2

And also if you required any technology you want to learn, let us know below we will publish them in our site http://tossolution.com/
Like our page in Facebook and follow us for New technical information.